2022 Float Decoration
Interested in joining us for this year (December 2021)? Follow the link below to see the available slots and sign up!
https://bit.ly/RoseFloatVolunteer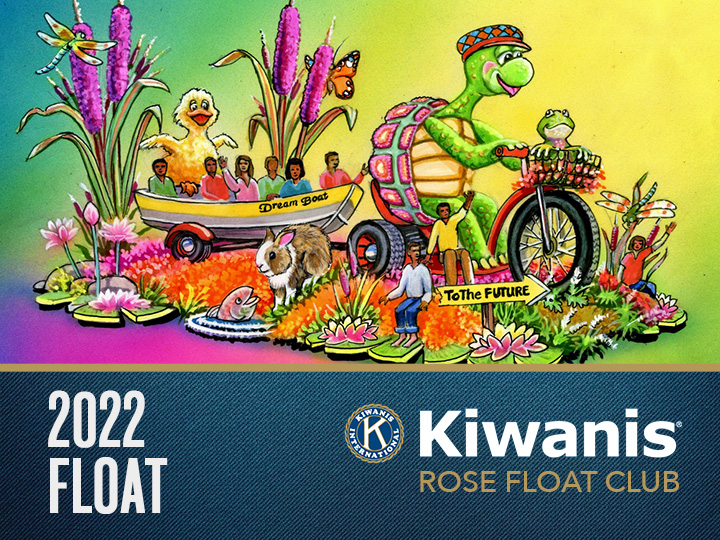 "Dream to Achieve"
This year's Kiwanis International float is titled "Dream to Achieve" … representing the values of Kiwanis International, which works year-round to help kids dream big dreams and gain the skills and resources to achieve those dreams.
COVID-19 Public Health & Safety Protocols
Guidelines as of 12/11/2021:
In cooperation with the City of Pasadena, and the Pasadena Department of Health, all participants in the Rose Parade must provide proof of vaccination or proof of a negative COVID-19 test result within 72 hours of the start of the parade.
Following the current protocols of Los Angeles County, there is no requirement to show proof of vaccination or a negative Covid-19 test to work at the Phoenix Decorating facility in Irwindale. However, all participants will be required to wear masks, and to complete the waivers linked below..
Participant Waiver Downloads
All participants must bring these signed forms with you to the site when you check in:
Kiwanis COVID-19 Waiver: https://www.dropbox.com/s/stiebyhtzip2a2y/Covid%2019%20waiver-key%20club-CA-rev.pdf?dl=0
Phoenix Decorating Medical Waiver: https://www.dropbox.com/s/71x4xz2mguubjjk/Medical_Form.pdf?dl=0
Float Decoration List
This year the Kiwanis Rosefloat Club will be coordinating decoration for the following floats:
Kiwanis International
Western Asset
Trader Joe's
Medically Home
Queens
Shriners
Farmer's
Lions (assisting)
Odd Fellows (assisting)
Additionally, we will be coordinating trash detail and assisting with tubing.
For additional information, please contact your group leader or club representative. All details subject to change at any time.